Mon, 04 February 2019 at 6:34 pm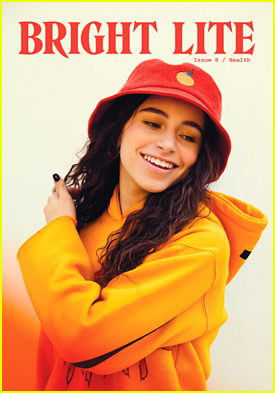 Sky Katz takes over the new cover of Bright Lite magazine, a glossy for girls by girls ages 8 to 16.
The 14-year-old Raven's Home star opened up in the issue about not avoiding your emotions and instead, embracing them.
"There's definitely times when I don't want to feel the emotion I'm feeling but, I'm a human being so everyone feels all the emotions," Sky shared. "I think it's important for me and others to understand that it's okay to feel the way you feel. Like it's okay to be upset, angry, frustrated, whatever you are. It's okay."
She continues, "There are so many others feeling that. Something I do hate is crying. I just feel like, it's a weakness. Like if you cry, you're weak."
"But as I'm going though more and more experiences, I'm learning that it's all OK," Sky realizes. "You can cry. Let out all your emotions. It's OK. That's something I've definitely learned to be okay with. You try to push away from the fact that you feel certain emotions and then when you hide it, these emotions will ball up and explode."
Sky's issue will be out on February 28th. Grab your copy of Bright Lite magazine online now!
Like Just Jared Jr. on FB