Wed, 06 February 2019 at 8:37 am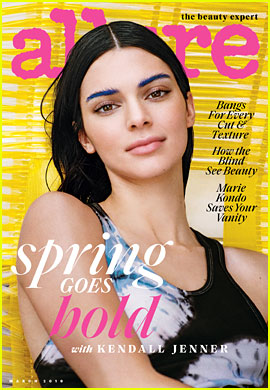 Kendall Jenner puts her fun new eyebrows on display for Allure March 2019 issue.
In her interview, the 23-year-old model spoke about receiving hate online, dealing with haters, and more. Here's what she shared…
On which sister has the best skincare routine: "I honestly might need to take credit for this one, only because they haven't really struggled with breakouts. Khloe did a little bit when she was really young, and then Rob a bit when he was really young but he's not my sister (laughs). They all have beautiful skin. So I will talk myself up and say that I might be the [skin-care] master in the family."
On the hate she received over her acne at the Golden Globes: "I mean, it's something that I look at myself in the mirror every day and see. Like, I don't want it there, but you have to deal with what you have right in front of you, and I had to deal with it, and it was probably a once in a lifetime thing for me to go to the Golden Globes (in 2018). I don't know if I'll ever go again, 'cause that's not usually my event to go to, you know? And so I went and I was super excited about it, and I'm not gonna let something so little (and big) as acne stop me. I was feeling good about myself, and then when people say mean things I'm like, "I know I have a zit. I know I'm breaking out. You guys don't have to keep pointing it out. I obviously see that, but let me live."
On reading mean things online: "I have cried endlessly for days because of things people have said to me, and I've had to become stronger through it. I mean, don't get me wrong: I am not superhuman. I definitely feel, and the things people say online are very hurtful. You also just have to live your life and not pay attention to it. I think it can get pretty unhealthy if you really are deep in it and paying attention to it all the time. I think that that's what can really mess you up."
For more from Kendall, visit Allure.com.
Like Just Jared Jr. on FB