Tue, 05 March 2019 at 7:52 pm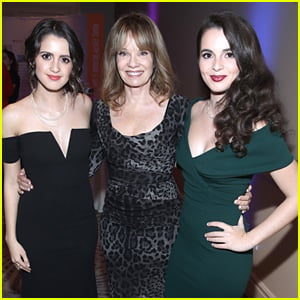 Laura Marano is giving us new details about her next movie, Saving Zoe!
JJJ spoke with the 23-year-old singer and actress about working on the movie, what drew her to it and how it was really working with her family.
"I should have more details in the next few months, but it looks like it will be coming out in the summer!" she dished about the future release date.
Laura also shared that working so closely with her sister, Vanessa and mom, Ellen, on screen and off screen wasn't as challenging as it could've been.
"I mean, for sure, working with family can be tough, especially because my mom, sister and I are all very opinionated, strong people. We would disagree, and we were absolutely exhausted, and with all that, it was one of the best, most rewarding experiences of my life," she says. "I honestly can't believe we did it, and the whole experience just made me more pumped to produce more."
Laura also spoke of another book series that she'd love to make an adaption of.
"I have absolutely no affiliation with [it], but I've always dreamed of bringing to life is called 'The Luxe'. It's basically Gossip Girl in the 1900s, so it's pretty amazing."
Stay tuned for even more about Saving Zoe, and Laura's music – coming soon!
Like Just Jared Jr. on FB