Wed, 06 March 2019 at 12:04 pm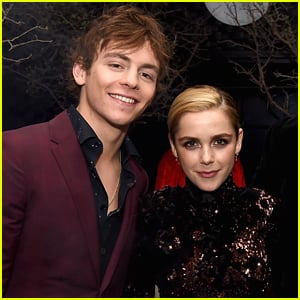 Kiernan Shipka shared the funniest story about living right next door to Ross Lynch in Vancouver, Canada.
When not on set, the two Chilling Adventures of Sabrina actors, who star as Sabrina and Harvey on the Netflix series, aren't far apart at all – in fact, they're literal neighbors.
"He lives right next door and I always feel like I'm waking him up, because my smoke detector goes off a lot when I'm cooking and it's very sensitive and he's always checking if his music is too loud, so it's cute," Kiernan shared with Girlfriend about what life is as his next door neighbor.
She adds, "We're good neighbors to each other. Everyone lives in walking distance to each other."
Kiernan also spoke about what fans can expect when the show returns next month.
"I just got the first peek at it and it's sooooo good!" she teases. "I would say that it's fiercer, the stakes are higher, the relationships are more charged and overall it's this bigger, better, scarier season!"
"The first season was the introduction to everything but this second season is really twisted and a lot more lives are in danger. You'll be on the edge of your seat the whole time," Kiernan added. "There were scenes we were filming where people would say, "Do you think I'm going to make it out alive this season!?" and they were big characters we're talking about! So it's really intense but its a really fun watch."
The Chilling Adventures of Sabrina will return on April 5th on Netflix.
Like Just Jared Jr. on FB