Sat, 09 March 2019 at 6:57 pm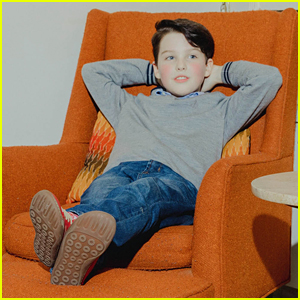 Iain Armitage looks comfy during his new shoot for Esquire!
Here's what the Young Sheldon star had to share with the mag:
On Freddie Mercury being his favorite artist but not being able to see Bohemian Rhapsody: "I have not. I think it's, like, PG-13. I guess I'm gonna watch the appropriate parts."
On wanting to grow up so he can get a "fire wallet": "It's almost like a prank. Like, you go up to a cashier at some place, and you can have two wallets with it. You take out your fake fire wallet, it looks like a real wallet, and you open it and you can push a button on the side that makes it set on fire. (He says his mom will get it for him when he's 18)…Once I get my fire wallet, then my life's work is complete. Then I can go to college; I can do whatever. I'm gonna save all my weird things that I want to do, like skydiving, college, eating lemons while eating pickles, for after I get my fire wallet."
On if it's hard to manage being a TV star and going to school: "As long as you try your hardest and try to have a good work ethic and know that you're very lucky to be here doing whatever you do, whether it's working at some office job or being on the set of a show like Young Sheldon—whatever you do—you're lucky to have it. There are some jobs that are considered, like, not a lot of people want to do. Like, for instance, janitoring. Or jani-TOR-ing? Being a janitor. But as long as you come into your workplace with a smile and be super happy and be the best janitor you can be, you're gonna have a great life and a great day and a great everything."
For more from Iain, visit Esquire.com.
Like Just Jared Jr. on FB