Fri, 15 March 2019 at 5:02 pm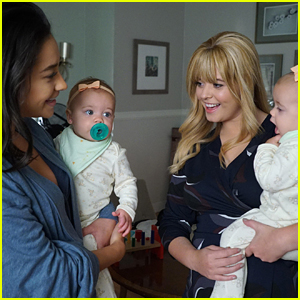 There's been a lot of talk about if and when Emily and the twins would pop up on The Perfectionists, seeing as Alison just accepted a job far away from them in Portland on the series.
Now, Sasha Pieterse and Marlene King are giving us new answers about what's going on with our fave family.
"Alison and Emily will always love each other. They have these two beautiful babies together. It's complicated. Life is complicated, and I think piecing themselves and each other and their world back together since A happened is difficult," Sasha shared with TV Guide.
She continued, "To be honest, [showrunner I. Marlene King] hasn't told me anything, so I'm actually not lying when I tell you I don't know all the details, but it's very clear that Alison loves Emily and the babies. I think both Emily and Alison need time to process their life and I think that's what it is."
That's when Marlene stepped in: "Emily and the babies are safe in Rosewood. Alison comes to Beacon Heights because an opportunity arises that she can't pass up. It's very hard for her to leave Emily and the babies, but we will understand as the first 10 episodes play out what's happened in that relationship, why it's happening and why Alison is so far away from Emily."
"People have relationship challenges all of the time and this is proof," Sasha adds. "Their life is really complicated. You Google them and it's just a disaster/ A lot of things has happened, but I think this [separation] is good."
Previously, Marlene confirmed that we will see the twins in the spinoff.
"You will see the twins, yeah. They're a little older now. I think they're toddlers now. They're, like, maybe 3 [years old]."
Pretty Little Liars: The Perfectionists premieres Wednesday, March 20th on Freeform.
Like Just Jared Jr. on FB