Fri, 22 March 2019 at 11:35 am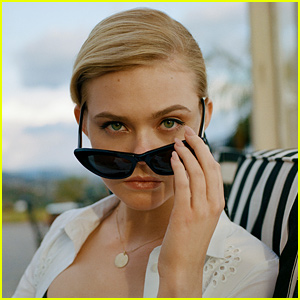 Elle Fanning gives a piercing stare in her new cover shoot for Net-A-Porter's digital magazine PorterEdit!
Here's what the Galveston star had to say to the weekly mag:
PHOTOS: Check out the latest pics of Elle Fanning
On not getting a part on Friends and then refusing to watch sister Dakota Fanning on the show: "I had an [audition] to be on Friends once. I might be remembering this wrong but I think I was gonna be one of Phoebe's triplets. I auditioned for it but I didn't get it and I was like, 'I'm boycotting the show, I'm never watching this again.' Then my sister was on it [Dakota appeared in the final series] and I refused to watch the episode. I was like, 'I am not watching this!'"
On how she grew up 'play acting' with Dakota: "My sister and I would play these elaborate scenes around the house. Like birthing scenes… I would be the baby, coming out… Crazy stuff like that. We were doing it for ourselves; we weren't, like, 'Oh, Mom and Dad, sit down and we're gonna perform for you.' That was how we played."
On how she hopes Aurora in Maleficent is a positive role model, and why it's OK to embrace femininity: "I want Aurora to be a character that [girls] can look up to, who's strong and all that. But Angelina [Jolie] and I were talking about this: Maleficent, of course, has the dark side, and Aurora is the one who loves pink and is the light and she's not afraid to be feminine. I think it's beautiful that I get to represent [someone] who is strong in her beliefs, but is also unwavering in staying true to herself. I wear dresses the whole time throughout the film… I don't have a moment where I burst into armor, you know what I mean? There's nothing wrong with loving your feminine side. I think as women we should really love that part of us."
For more from Elle, visit Net-A-Porter.com.
Like Just Jared Jr. on FB