Sat, 23 March 2019 at 5:25 pm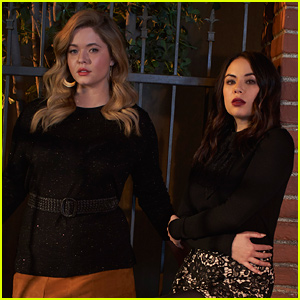 Besides Sasha Pieterse and Janel Parrish, will more stars from the original Pretty Little Liars series make their way onto The Perfectionists spin-off?
Here's what showrunner I. Marlene King had to say in a new interview with TheWrap:
On early casting decisions for The Perfectionists: "As [PLL] started coming to an end — maybe a year before — I started talking to the cast and floating around the idea of who's ready to move on and who's ready to keep exploring their characters and where they go from here. And Sasha and Janel were both really excited about the opportunity to do that. Warner Bros. had the rights to Sara's book, and I thought this was such a great place to explore new secrets, new lies, and incorporate a couple of our great O.G. characters."
"They were really excited about getting to explore their characters more. And I was excited because I really didn't think we got to see enough of Mona on the first round of PLL. I know fans wanted to see more and learn more about her. They wanted her to have romance and a full life beyond just being that sort of Crazy Mona on PLL. So that was a real no-brainer for me.
On Mona's role: "You're going to have to wait and see. Mona was never really trustworthy on PLL — I mean, she loved Hanna, but she still hit her with a car — but I think you're going to get to see a side of Mona that you haven't seen before, and you're going to be able to trust her a little bit more than you were on the other show."
On whether or not she's chatted with other familiar faces about popping up on the show: "Yeah, I think they're all really excited for us. And because the show is premiering this week, we're all getting together, there's lots of different opportunities for the cast to support the show, and they've all been really fantastic. There's quite a few people who've expressed interest in coming on. But for the first season, I felt it was really important to launch the show on its own and let it stand on its own two feet, so it's not really about those appearances. But I think next season we'll be a lot more open to having some of those OGs and those fun moments. I will say, though, even though we don't see them, there are moments through Mona and Alison where we find out what's going on in Rosewood. We will get information from them about what the other characters are doing."
The Perfectionists airs Wednesdays at 8 p.m. on Freeform!
Like Just Jared Jr. on FB