Mon, 08 April 2019 at 11:53 am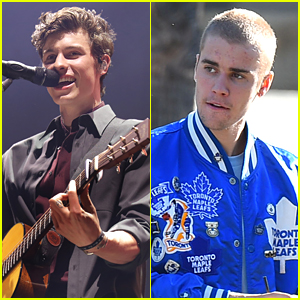 Shawn Mendes was just declared the Prince of Pop by Observer Magazine, but there was another pop star who had a bit of beef with it – Justin Bieber!
Justin jokingly responded to the post in the comments, writing, "Hmm…Gonna have to break a few more records to dethrone my title there bud (canadian voice)..but if you want we can play hockey for it but i heard your [sic] a real bender on the ice we could just drop the buckets and tilt for it."
Shawn saw the comment and wrote back, accepting Justin's terms.
"LOL any time any day you just let me know," he wrote.
Justin also calmed fans down by responding to his own reply: "There is no competition and it was a playful joke people relax.. there's no sides we're all just here to make dope music. I'm just [as] competitive as he is … so it was just a little playful jargon."
FYI: Shawn and tour mate Alessia Cara are pictured below performing at Manchester Arena on Sunday (April 7) in England.
Like Just Jared Jr. on FB