Wed, 10 April 2019 at 11:41 am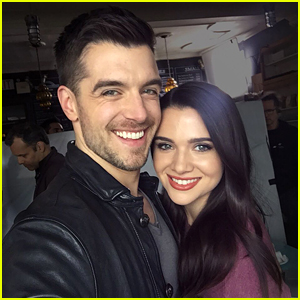 SPOILERS AHEAD – DO NOT READ IF YOU HAVEN'T WATCHED THE BOLD TYPE SEASON 3 PREMIERE, OR DON'T WANT TO KNOW!
It's official – Jane ended up with Ryan aka Pinstripe on The Bold Type and we are so excited for what's to come for the new couple!
Katie Stevens chatted with TVLine following the season three premiere about what's ahead for the twosome.
"It's been a fun journey of having people commenting on who they think Jane's going to pick and who they want Jane to pick, and most people are Pinstripe fans," she shared. "I'm excited for everyone who was hoping for that, and for me, because I love Dan Jeannotte."
Katie adds that what made Jane "ultimately choose him is that he understands her career. He supports her. He pushes her where she needs to be pushed, takes her outside of her comfort zone, challenges her, but is also really supportive and caring and loving."
"He has continually showed up for her, and I think that was something that she was scared that he wouldn't do. So that's why she was so hesitant for so long, but he had proved himself over and over and over again to her to where she, finally, was able to kind of let her guard down and allow herself to trust him."
So what's ahead for the couple? Committing to a relationship!
"[It's about] how do you take somebody from that and have them commit, and what does that commitment look like? I'm really excited because we have a lot of sweet things coming up for them, and it's nice to see that different side. It was so easy to kind of show Pinstripe as, like, a player, but now we get to see him as a boyfriend, and we get to see Jane give herself over to a relationship, too, because I think that Jane has been a little apprehensive in the past," Katie says. "Just watching two people who were too scared to give it a shot finally giving it a shot, I think, is really fun for viewers to see."
The Bold Type airs Tuesdays on Freeform.
Like Just Jared Jr. on FB