Tue, 16 April 2019 at 11:50 am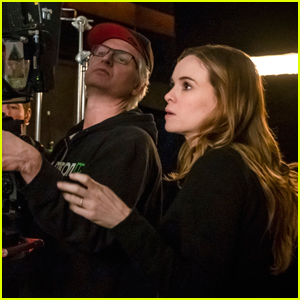 Tonight's the night – Danielle Panabaker's directorial debut on The Flash!
While chatting with TV Guide, the -year-old actress opened up about stepping behind the camera and how she prepared to direct and pull double duty as an actress.
The biggest hurdle for her personally was having to direct herself!
"I did not enjoy it, which is something you don't know until you try it," Danielle shared. "It's these big cortex scenes with everybody in them, so it was certainly a challenge to try and set everything up because we're working with three cameras and to not be able to sit behind the monitors and sit and watch to make sure we were getting things."
She continues, "So, I was trying to pay attention while I'm in the scene and also trying not to forget my lines. It was certainly a challenge, but I made it through."
As for how she prepared, Danielle shared that she "asked for advice from every director I ran into for a year."
"Ever since I knew I'd be directing an episode, I was like, 'What are your tips? What do I do? How do I succeed?' I've been very lucky in my career — obviously over the past few years, I've been incredibly supported by my Flash family and everyone who works there as I've tried to learn and understand more," she says.
Danielle adds, "One of the first things I ever did was a miniseries for HBO, and I remember the director of that miniseries, Fred Schepisi, allowed me to watch him edit. He was watching dailies, and that was a wildly informative experience for me, because as an actor you're sometimes so focused on your own performance that it's sometimes hard to see the impact of what you're doing in a larger sense. So I'll never forget watching him edit, and it's certainly changed and shaped me as an actor."
The Flash airs Tuesdays on The CW.
Like Just Jared Jr. on FB