Wed, 24 April 2019 at 12:07 pm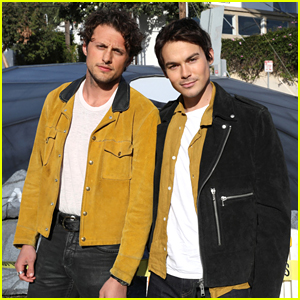 Tyler Blackburn is sending a message to all Malex fans out there who watched the couple break away from each other in the season finale of Roswell, New Mexico.
"I know you guys are pissed about the way #malex ended off in the finale," Tyler started. "BUT, first let me just say that Alex gave Michael the run around for months. Guerin had to start to move on. You can't help the heart sometimes."
He added, "But also, there is so much more story to tell! Fingers double crossed for season 2. I know @cadlymack, @MichaelVlamis and I won't do you too wrong! 😉."
That gives us some hope for the two in season two, if the series should be renewed.
Showrunner Carina Adly Mackenzie also spoke to EW about Malex's future in the show.
"I think they're on a journey that will bring them back to each other in a lot of different ways over the course of the series," she shared. "I don't think that Michael loves Maria [Heather Hemmens] the way that he loves Alex, but I do think that he's making a choice about the life that he wants and the way that he wants to feel."
She added, "Things with Alex are extremely fraught; he's tied to a lot of pain in Michael's life…I think that Michael is making a safe choice right now. I'm very excited to see Michael and Alex evolve as men and even as friends and maybe fall back in love, in a way that could be a little less painful."
I know you guys are pissed about the way #malex ended off in the finale. BUT, first let me just say that Alex gave Michael the run around for months. Guerin had to start to move on. You can't help the heart sometimes.

— Tyler Blackburn (@tylerjblackburn) April 24, 2019
But also, there is so much more story to tell! Fingers double crossed for season 2. I know @cadlymack, @MichaelVlamis and I won't do you too wrong! 😉

— Tyler Blackburn (@tylerjblackburn) April 24, 2019
Like Just Jared Jr. on FB