Wed, 19 June 2019 at 11:26 am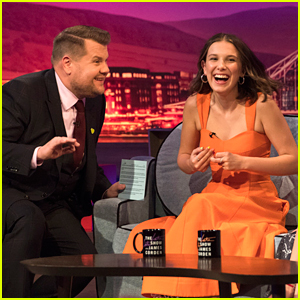 OMG! Millie Bobby Brown just revealed a huge secret she does for her role as Eleven in Stranger Things.
During her appearance on The Late Late Show with James Corden alongside Lily James, the 15-year-old actress explained just how she's able to get a realistic nose bleed on the Netflix series.
If you've watched the show, you know that when Eleven uses her mind to move something, she gets a nose bleed and the secret behind that is a corn syrup mixture, that she squeezes into her own nose ahead of time.
"You squeeze it in, and then whenever you feel it, I put my head down and I say, 'Ok guys, everybody ready… roll camera, O, action!' and then wait," Millie explained. "And then if it comes…and if it doesn't, then I've screwed up my timing."
Millie adds that "sometimes I taste it, and then sometimes I get my timing wrong, and the director's like, 'Millie!'"
Watch her interview below!
Like Just Jared Jr. on FB