Fri, 28 June 2019 at 11:23 am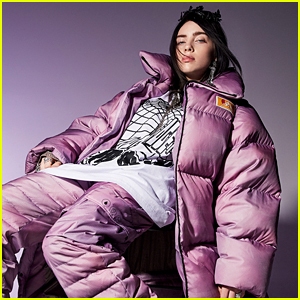 Billie Eilish kicks back in a pink puffy jacket and pants in this shot from her Vogue Australia cover.
The 17-year-old singer opened up in the July 2019 issue about her music and what she's wanting to say with her platform. Check it:
On style and expressing herself through her clothes she says: "Oh my god, dude. That's the first thing that matters in every day of my life. Everywhere I go, everything I do. Everything. It's the first thing that I think about that I barely even think about it. It's my whole identity. My whole personality is based off my clothes and what I'm wearing that day. I'll have a different personality for a different outfit sometimes. If I'm wearing something I don't feel comfortable in I will turn into a totally different persona that I hate."
On using her influence and huge platform for good she says: "I really don't want to waste my platform. I'm trying not to but I think all of us in the spotlight – or whatever you want to call it – can be more vocal about climate change and things that need to be talked about. I still think I can do more. There are so many things being determined by people who are going to die soon anyway because they're old as f***. It makes me so angry. There are so many things I wish I could snap my fingers and make better. There is so much that needs help and [there are] people who pretend they care and don't and [then] people who could do something, but don't. I'm here and I can actually try. I suddenly have a platform and a spotlight that I can maybe, maybe, maybe make a difference to something."
On carving her own path: "There are so many things I used to have deal with that I don't at all anymore and there are so many things I never used to have to deal with that I do now. It's a weird balance between the two. I'm a lot more protective of everything…Everyone [in the music industry] is ready to tell you what to do. Everyone is ready to be, like: 'You're my creation.' It's weird that the hard thing to do is do what you want to, because everyone wants to make a product."
The Vogue Australia July issue is on sale NOW!
For more on Billie, head to Vogue.com.au.
Like Just Jared Jr. on FB