Tue, 09 July 2019 at 10:35 am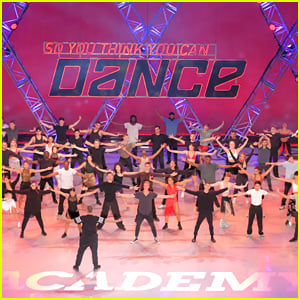 The new season of So You Think You Can Dance is just getting started and already we have an official tour coming!
The So You Think You Can Dance Live! 2019 Tour will launch later this fall, after America's Favorite Dancer is crowned on season 16.
The tour celebrates the show's 16th season, featuring the Top 10 finalists and two of the Dance All-Stars, which will be announced at a later date. The show will feature this season's most popular routines, as well as original pieces created specifically for the nationwide tour.
The live show kicks off on October 12 in Atlantic City, New Jersey, and will make 40 stops across the United States. The tour will wrap on December 6. For all ticket information, head to dancelivetour.com.
Click inside to see all of the tour dates…
So You Think You Can Dance Live! 2019 Tour
DATE CITY
10/12/19 Atlantic City, NJ
10/13/19 Worcester, MA
10/14/19 Morristown, NJ
10/15/19 Englewood, NJ
10/17/19 Rochester, NY
10/18/19 Rama, ON
10/19/19 Kitchener, ON
10/20/19 Mashantucket, CT
10/22/19 Manassas, VA
10/23/19 Oxon Hill, MD
10/24/19 Lynn, MA
10/25/19 Shippensburg, PA
10/26/19 Brookville, NY
10/29/19 Clearwater, FL
10/30/19 Ft Lauderdale, FL
11/01/19 Biloxi, MS
11/02/19 Orlando, FL
11/04/19 Salem, VA
11/05/19 Wilmington, NC
11/06/19 Atlanta, GA
11/08/19 Cincinnati, OH
11/09/19 Waukegan, IL
11/10/19 Royal Oak, MI
11/12/19 Springfield, IL
11/13/19 Milwaukee, WI
11/14/19 Indianapolis, IN
11/17/19 Grand Prairie, TX
11/18/19 Midland, TX
11/20/19 Los Angeles, CA
11/21/19 Modesto, CA
11/22/19 Las Vegas, NV
11/24/19 Santa Rosa, CA
11/26/19 Seattle, WA
11/29/19 Livermore, CA
11/30/19 San Jose, CA
12/01/19 Thousand Oaks, CA
12/02/19 San Diego, CA
12/03/19 Mesa, AZ
12/05/19 Anaheim, CA
12/06/19 Reno, NV
Like Just Jared Jr. on FB