Thu, 25 July 2019 at 1:58 pm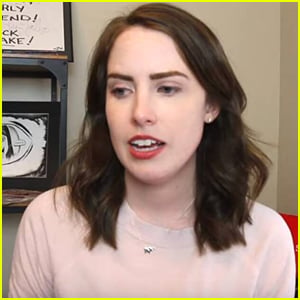 Laina Morris is breaking up with YouTube.
The 28-year-old YouTuber, who was the inspiration for the "Overly Attached Girlfriend" meme, announced in a new video posted Wednesday (July 24) that she's leaving the platform for good.
Laina explained in her video that being on YouTube started to take a toll on her mental health.
"I would say after about a year of doing YouTube, I started to feel the stress and the weight of the job more than I ever had before," Laina said. "It started to feel like a job more than it had before."
The viral star went on to explain the specific pressures she was under.
"I started to feel a lot of pressure to make up my mind career-wise, figure out where I was gonna go with YouTube or after YouTube, beyond YouTube, and I couldn't do it confidently and it really stressed me out," Laina told her viewers. "After about a year and a half of doing it, I started to feel a bit depressed. And starting around 2014, I would say, the beginning of 2014…I'd sort of landed myself in a real deep depression, and I was keeping it a real deep secret from everyone around me."
"I felt ashamed and I felt guilt for being stressed and overwhelmed in a world and with job and opportunities that were so great, I didn't understand why I couldn't handle it. For years, I was battling a really complicated and difficult…and for me for some reason, almost embarrassing, thing that is depression," she added.
In 2017, Laina took a break from YouTube that gave her a chance to get some clarity.
"Taking a small break turned into not posting for an entire year," Laina said. "Then since that last video, it's been another year. And in that year, I have gone to therapy, I have really thought this through, I have time and time again, battled in my head, 'Do I wanna do this? Do I wanna quit YouTube?' And I've come to this point and this moment today where I can confidently sit in front of this camera and say that it's time for me to say goodbye to you guys and officially end this thing that I've been really holding on to and not wanting to let go of."
Read what Kylie Jenner had to say about her own struggles with anxiety here!
Like Just Jared Jr. on FB