Thu, 08 August 2019 at 3:10 pm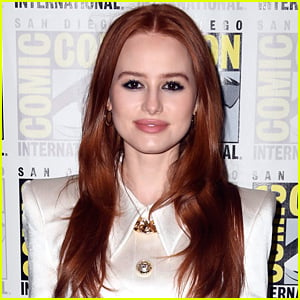 Madelaine Petsch has opened up about her own personal struggles with panic attacks and anxiety in the new issue of Nylon magazine.
The 24-year-old Riverdale star revealed that up until she was cast in The CW series, she had "really bad" panic attacks, and spoke about the stigmas of going to therapy for help.
"Talk about stigma, dude. I mean, I didn't even know what it was, but I used to get really bad panic attacks right before I booked Riverdale. Then, I started getting really bad social anxiety, and I only was able to [hone] in on what those things are and work through them [with therapy]," she shared.
Madelaine added that she knows there's still work she needs to do to make a dent.
"Just being able to [hone] in on what it is and identify it is the first step," Madelaine says. "I only could have done that with therapy. So I understand that maybe people think that there is some kind of stigma around therapy, but, like, you talk to your mom, you talk to your friends — it's the same thing."
She's also lucky to be able to lean on her Riverdale co-stars, too.
"Mental health is incredibly important to me, and I'm so happy that I'm part of a group of women with the [Riverdale] cast that all speak so vocally about it," she shares. "If I'm having a bad day and I'm feeling like my anxiety is through the roof, I will call Cami[la Mendes], and I will go to her place, and we'll eat dried apricots and talk about all of my problems until I have vented it out."
Read more from Madelaine's cover story on JJJ now!
Like Just Jared Jr. on FB