Tue, 27 August 2019 at 2:02 pm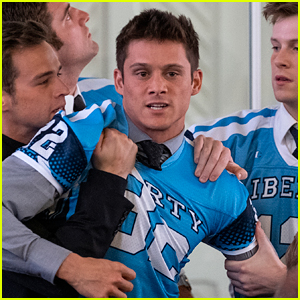 SPOILER ALERT! THIS POST CONTAINS 13 REASONS WHY SEASON 3 SPOILERS! DO NOT READ IF YOU DON'T WANT THE SEASON RUINED!
Timothy Granaderos is opening up about his character Montgomery "Monty" De La Cruz's story line in 13 Reasons Why's third season.
The 32-year-old actor talked about how some of the new developments in his character's arc this season surprised him.
[SPOILER ALERT]
"I didn't find out Monty was going to be killed off until much later in the season," he told EW. "When I found out, it was pretty shocking and sad because more than anything, it's a tragedy for this character, you know? In season 3, we do learn some of his vulnerabilities and we maybe see Monty turning in some ways and then tragically it comes to an end. I'm just sad to see that his story ended in that manner."
He also talked about if he knew before that Monty was dealing with internalized homophobia.
"I definitely, especially looking back on a lot of his comments and the racy things he would say, you have to entertain the idea that he's covering something up," Timothy added. "But I don't feel like I had developed that idea in my mind. Even when [Showrunner Brian] Yorkey approached me with it, it was more so that if Montgomery had these urges, he wouldn't even allow himself to explore that. He would shut it down immediately. It was interesting and that's how I prepared it as an actor and that's how it came to fruition onscreen for Monty."
Like Just Jared Jr. on FB