Tue, 01 October 2019 at 6:56 pm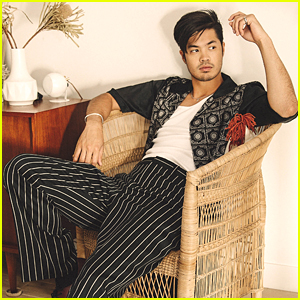 Ross Butler chills on a chair in his new feature for Euphoria magazine.
The 29-year-old 13 Reasons Why actor dished to the mag about how he started acting, being typecast and his breakthrough role on the show. Check it out:
On avoiding being typecast as the stereotypical Asian: "Back in 2013-2014, those were the only roles for available to Asian actors so it was tough, but going back to what I said before, that's because the people I saw on-screen were not me. They didn't reflect who I was. It was something I didn't want to be associated with; I didn't want to be associated with the guy that only does martial arts or the guy that's only the overachiever. So, my career started off hard at first; it was a steep slope to climb. But once I broke through, that's kind of what made my career was that decision."
On his breakthrough role on 13 Reasons Why: "The past four years have been a crazy ride. It's indescribable. 13 Reasons Why is the biggest thing I've done in my career– It's changed my life. If I'm being completely honest, it's made me look at things from a completely different perspective. It's made me a lot more aware of a lot of the psychological issues in the world and it's made me more open to learning about new issues that are coming up. I've always said culture leads how we act. To be part of something that's become such a cultural phenomenon, and being able to show the next generation how to proceed or how to grow up and open themselves up is an honor. It's weird to think about from a macro perspective but it really is an honor. It comes with pressure and responsibility, but it's something that we have really taken seriously upon ourselves."
For more from Ross Butler, head over to Euphoriazine.com!
Like Just Jared Jr. on FB