Thu, 03 October 2019 at 11:13 am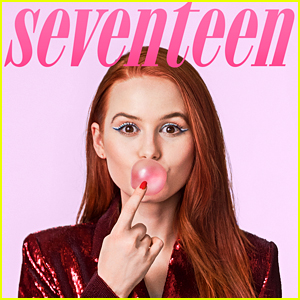 Madelaine Petsch goes to pop her giant bubble of gum on the cover of Seventeen's new digital issue.
The 25-year-old Riverdale starlet opened up in the issue about bullies, her amazing red hair and remembering her late co-star Luke Perry. Check it:
On the death of Luke Perry: "Luke was my oracle throughout Riverdale. He was on 90210 and had done all this work, so anytime I had any questions, he opened his door to me. He was such a kind and loving soul, and he was so generous. He was the kind of actor that gave you everything when he worked with you."
On how her role on Riverdale encouraged her to embrace her red hair: "I think Cheryl has helped me really love my red hair. Finally, my hair and I have a great relationship," she says. "And when fans tell me they're being bullied, I remind them that the things they're being bullied for now are the things that make them unique. When you get older, those things are going to make you stand out."
On how her role on Riverdale helped her get some closure on the bullying she experienced when she was younger: "I've learned the mindset of the people who bullied me very well because Cheryl's been a bully on the show. I've learned that the people who've made the most fun of me as a kid probably had their own sh*t that they were going through. And so they were taking it out on other people. And that breaks my heart."
Check out more of Madelaine's interview on Seventeen.com now!
Like Just Jared Jr. on FB