Fri, 25 October 2019 at 2:02 pm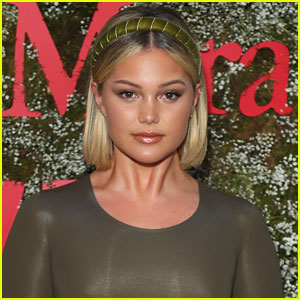 Olivia Holt is about to break your heart even more about the Marvel's Cloak & Dagger cancellation.
Taking to Instagram after the news was announced the day before, the 22-year-old actress shared a touching tribute to the series.
"hooo boy. this one hurts. i'm not sure if i will ever really be able to articulate what i'm feeling right now. but one thing i know for sure, is just how fucking proud i am of this show. and what this show did. and what this show said. and just how much this show impacted not only me, but all of the humans out there that watched it," Olivia wrote.
She continues, "This show was more than just a job for me. it changed my life, professionally and personally. it helped shape me into the human i am today. it taught me bravery and camaraderie, it was intelligent and raw. and even though it was a show about superheroes, it was real. and in just two season, we tackled some of the heaviest issues that are happening in our world today. from drug addiction, to sexual assault, to police brutality, and human trafficking. we decided to tell a story through the eyes of a young black man and a young white woman living in modern day new orleans recognizing just how much society has dehumanized black culture and minimized females. and learning how to say 'NO.' and fight back."
Olivia added, "cloak and dagger are super humans. and what an absolute honor it was to bring tandy to life."
"Thank you to every kickass human who lent their passion and insane work ethic to this show. to my crew down in nola, i legitimately loved every moment working with you. even at 4am when i was loopy as f***, you were patient and laughed with me and we pulled through together. to my BRILLIANTLY talented cast mates, i will always be truly in awe of all of you and your performances. hi @emmakatelahana , thank you for coming over last night to drink wine with me and look back on the last two years of our lives and all the dumb shenanigans we got ourselves into. you've shown me true sisterhood. and i'll like, probs c u tomorrow. @jpokaski , i really can't explain the respect and love i have for you. you made something special and gave me an artistic challenge and as an actor, i simply thank you."
"To our fans who became more like family, WOW. thank you for trusting us and believing so fiercely in this story and for seeing yourselves in tandy and tyrone. and to my breezy (@aubreyomari), this isn't the end. waffles forever. 🖤🗡"
Like Just Jared Jr. on FB