Thu, 07 November 2019 at 12:43 pm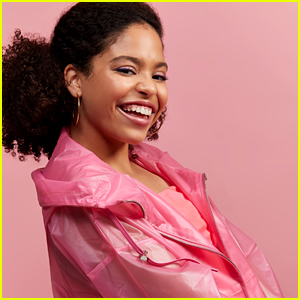 If you haven't seen Symera Jackson on Netflix's new series, Team Kaylie, you need to right now!
The 14-year-old actress stars as Jackie on the funny show, a straight A-student and rule follower who lives to people please and get into an Ivy League college.
JJJ caught up with Symera recently and learned a ton about her and we're sharing all our intel with you so you can get to know her better.
Check out our 10 Fun Facts about Symera below!
My favorite time of the year is Winter! I love the holidays, and blast KOST 103.5's Christmas music all day long.
I'm in full head-to-toe camouflage makeup and gear with the coolest fro-hawk in an upcoming episode of Team Kaylie.
I love the ocean and marine life. I used to make up spells when I was little that would turn me into a mermaid.
I've seen Disney's Newsies the Musical eight times. Seize the day!
I played chess with Jim Parsons and "Wyatt" the talking dog on a super fun Intel commercial.
Click inside to learn more about Symera Jackson…
I love aerial silks and having been taking classes for a year now!
The first time I went surfing was in Hawaii, and I saw a sea turtle!
I love 80s and 90s music, Lizzo, Musicals, and Jazz.
Winnie the Pooh is my favorite Disney character. I grew up watching the movies and reading A. A. Milne's books.
My favorite earrings are hoops, and I wear them almost every day!
Like Just Jared Jr. on FB