Fri, 08 November 2019 at 12:58 pm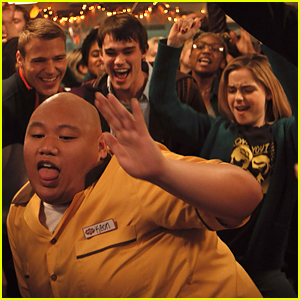 Let it Snow is finally out on Netflix!
How many times have you watched it already? Once, five times, or even more? Let us know!
The movie stars some of our absolute faves including Isabela Merced, Kiernan Shipka, Mitchell Hope, Jacob Batalon and many more. You can see the full cast list and their characters now!
To add to your viewing pleasure, JustJaredJr.com has gathered up 14 FUN FACTS about the movie that are guaranteed to make it the movie even better!
Like, did you know that the teacup pig's name is actually Hula Girl? How cute is that?!
Click inside to see more fun facts about Let It Snow!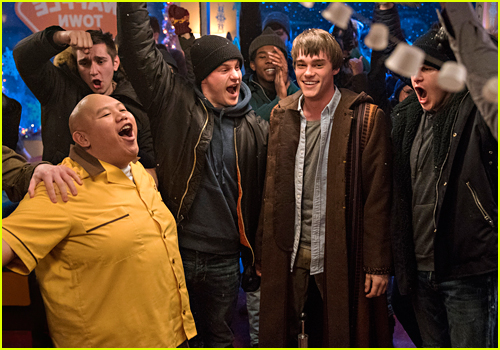 Shameik Moore loves big, sweeping romance movies. His favorites are Titanic, The Notebook, and Love & Basketball.
Every year, Anna Akana re-reads the entire "Harry Potter" book series between Thanksgiving and Christmas.
Miles Robbins owns a waffle maker in the shape of the Death Star from Star Wars
Director Luke Snellin's major influences for Let It Snow were Richard Curtis' Love Actually and John Hughes' The Breakfast Club. He was also influenced by Cameron Crowe's Almost Famous and Singles, Alan Parker's The Commitments, Richard Linklater's Dazed and Confused, and Allan Moyle's Empire Records.
Luke Snellin decided on "The Whole of the Moon" as Tobin and The Duke's song because it felt timeless and classic, and wasn't too well-known. He figured Tobin and The Duke would have listened to it together growing up. "It feels like it's uplifting, but it's also heartbreaking," Snellin says. "It's got that weird tone that makes it both bittersweet and fun at the same time."
During filming, Kiernan Shipka and Mitchell Hope went to bars in Toronto and practiced singing "The Whole of the Moon" together to test it out on live audiences.
Also during filming, the final party scene in Waffle Town turned into an actual party. What was supposed to be a quick take turned into a full-blown improvised dance party with the whole cast and 150 extras. Luke Snellin blasted "Electric Feel" by MGMT and "We Are Your Friends" by Simian as everyone danced.
The movie is full of fun easter eggs referencing the book. Tin Foil Woman works for Mojo Towing, a nod to author Maureen Johnson. In the record store scene with Tobin and The Duke, there's a fake John Green album called "Welcome to Graceland," and you can see bottles of Miracle Syrup in Waffle Town, a nod to author Lauren Myracle.
The Reston Twins drive a bright red Challenger, which is a nod to the famous car in Ferris Bueller's Day Off.
The film is set in Illinois, which is also a nod to John Hughes, who set some of his movies in the fictional town of Shermer, Illinois.
Luke Snellin's favorite holiday movie is It's a Wonderful Life, and Tin Foil Woman is supposed to be similar to Clarence, the magical guardian angel who saves George Bailey's life.
You rarely see the classic holiday colors red and green in Let It Snow. Luke Snellin, DP Jeff Cutter, and costume designer Mary Claire Hannan avoided a traditional Christmas color palette to help make the film feel more timeless.
When actor Mitchell Hope wore the Jedi cloak at the end of the movie, it earned him the nickname "Tobin-Wan Kenobi."
Like Just Jared Jr. on FB