Fri, 15 November 2019 at 1:03 pm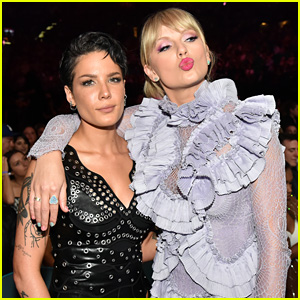 Halsey has Taylor Swift's back regarding her battle with Scooter Braun, Scott Borchetta and Big Machine Label Group.
The 25-year-old "Graveyard" singer shared her thoughts after responding to independent singer Verite on her Twitter account on Friday (November 15).
"moral of the story: don't sell ownership of your masters and still expect to have control of your work," Verite wrote, which kicked off some debate on Twitter, including Halsey.
"Hey man. Good for you. But you don't become Taylor Swift that way. It takes an army. Everyone wants a different career and a different path, 100% But insinuating she should have known or done better to reach her magnitude is negligent," Halsey wrote in response.
"Ps. My first radio play, charting records, and extended play were all seen independent as well before I found a home at my label. I know both sides of this very well. artist trust labels. It's supposed to be a healthy symbiosis. You have holidays with these people. dinners. deaths. Watch babies be born. They watch your lowest lows and highest highs. Sometimes things are unspoken. Legal doesn't mean moral or ethical. You shouldn't have to live in fear of protecting yourself from the people who are supposed to be on your side. And most young, wide eyed artists, don't have the foresight to think they will need to. And it's sad they would ever need to..That's all I'm gonna say on that for now," she went on to tweet.
See Halsey's messages inside…
Ps. My first radio play, charting records, and extended play were all seen independent as well before I found a home at my label. I know both sides of this very well. https://t.co/EKeG2G6Q2A

— h (@halsey) November 15, 2019
artist trust labels. It's supposed to be a healthy symbiosis. You have holidays with these people. dinners. deaths. Watch babies be born. They watch your lowest lows and highest highs. Sometimes things are unspoken. Legal doesn't mean moral or ethical.

— h (@halsey) November 15, 2019
You shouldn't have to live in fear of protecting yourself from the people who are supposed to be on your side. And most young, wide eyed artists, don't have the foresight to think they will need to. And it's sad they would ever need to..

— h (@halsey) November 15, 2019
That's all I'm gonna say on that for now.

— h (@halsey) November 15, 2019
Like Just Jared Jr. on FB