Tue, 19 November 2019 at 5:28 pm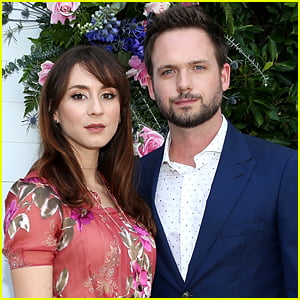 Troian Bellisario is opening up in a new interview about her daughter, Aurora's name and just how she and husband Patrick J. Adams decided on it.
"We had a different name, and then we were considering boy's names cause we didn't know what sex she was going to be," the 32-year-old actress shared with Teen Vogue.
She continues, "We were in Greece, so we were looking at a lot of Greek mythology and we were like, oh, if we have a son, maybe you should name it something having to do with the actual sun. We were looking at the name Helios and then we thought that Helios had a sister, named Eos and we didn't love Eos. But then we learned in Roman mythology that Eos was Aurora, which is the goddess of the dawn."
"We thought it would be nice that she would be our dawning of a new day in our life, and then we were like well, that's, you know, laden and cumbersome and really like, a lot, for a name," Troian adds. "So we went back to our other names. [But] Aurora kept on cropping up in both Patrick and my lives. It just wouldn't go away."
The two didn't really name her after a Disney princess, it just happened to be a coincidence.
"Now it's really funny because I didn't tell him that Aurora… he didn't know that Aurora was a Disney princess's name," Troian says. "I didn't even think of it honestly. 'Cause I was thinking about it in terms of the historical context. So many people now are like, "Oh, like a Disney princess?' And I feel like Patrick's like "ugh.'"
READ MORE:
Troian Bellisario Makes Promise About Climate Change To Her Daughter On Her First Birthday
Shay Mitchell Reveals The One 'Pretty Little Liar' That Has Met Her Daughter Atlas
Like Just Jared Jr. on FB