Fri, 13 December 2019 at 12:17 am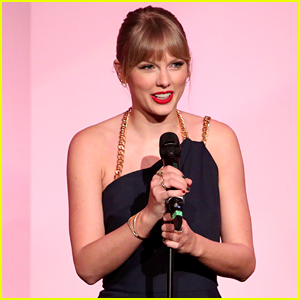 Taylor Swift is inspiring a lot of people with all of the things she said during her speech at Billboard's Women in Music event on Thursday night (December 12) at the Hollywood Palladium in Los Angeles.
The newly 30-year-old singer was presented with the Woman of the Decade Award and she publicly addressed her feud with Scooter Braun and the "toxic male privilege" in the music industry.
During the speech, Taylor called out the "unregulated world of private equity coming in and buying our music as if it's real estate—as if it's an app or a shoe line."
"This just happened to me without my approval, consultation, or consent. After I was denied the chance to purchase my music outright, my entire catalog was sold to Scooter Braun's Ithaca Holdings in a deal that I'm told was funded by the Soros family, 23 Capital, and that Carlyle Group. Yet, to this day, none of these investors have bothered to contact me or my team directly, to perform their due diligence on their investment," Taylor said. "On their investment in me. To ask how I might feel about the new owner of my art, the music I wrote, the videos I created, photos of me, my handwriting, my album designs."
"And of course, Scooter never contacted me or my team to discuss it prior to the sale or even when it was announced. I'm fairly certain he knew exactly how I would feel about it, though, and let me just say that the definition of toxic male privilege in our industry is people saying 'but he's always been nice to me' when I'm raising valid concerns about artists and their right to own their music. And of course he's nice to you. If you're in this room, you have something he needs," Taylor added. "The fact is that private equity enabled this man to think, according to his own social media post, that he could 'buy me.' But I'm obviously not going willingly. Yet the most amazing thing was to discover that it would be the women in our industry who would have my back and show me the most vocal support at one of the most difficult times, and I will never, ever forget it. Like, ever."
Taylor asked the people in the audience to "stand as an example for someone else in the next generation that loves the same thing that we love."
She ended her speech by saying, "No matter what else enters the conversation we will always bring it back to music. As for me, lately I've been focusing less on what they say I can't do and more on doing whatever the hell I want."
READ MORE: Everything You Need to Know About Taylor Swift's AMAs 2019 Performance & Behind-the-Scenes Drama
Watch the FULL speech below!
FYI: Taylor is wearing an Oscar de la Renta jumpsuit, Sergio Rossi shoes, a Jimmy Choo clutch, earrings by Ana Khouri and Âme, a bracelet and rings by Marli New York, and rings by Maxior and Le Vian.
Like Just Jared Jr. on FB