Sun, 15 December 2019 at 5:37 pm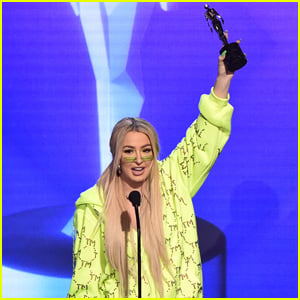 Tana Mongeau is sending a heartfelt thank you to her fans after taking home Creator of the Year at the Streamys.
The 21-year-old YouTuber took to her Instagram to share photos from the life changing event and explain that she never expected to win.
"i've spent the past few days staring at the ceiling replaying every moment of my career wondering how i got this far. honestly after intense contemplation, i have nothing.. as much as i am grateful for this award, i do not and never will feel like 'creator of the year.' i've never met that mark, i've never fit that mold.. i've always been the misfit, the outcast, the fuck up.. matter of fact i've spent every second of my career KNOWING i'd never be creator of the year," Tana wrote.
She continued, "i held this exact award ONE YEAR AGO, floored that i was even accepting it on behalf of the person that saved my life.. i held it in my hands and said 'i know all of you never expected to see me hold a creator of the year award'… for 365 days to go by and to be holding it as my own is the most full circle moment i'll probably ever feel. it will never feel real. it will never feel like mine- it is yours."
Tana added no one in the industry predicted she would win the award and it all had to do with her fans.
"i'd like to thank you on behalf of 13 year old me. she made iphone videos hoping that she'd make one of you forget the pain for even one second. she hoped the pain she'd felt would resonate with even one of you. she was just excited Casey Neistat was gonna read her name as a nominee…this one is for the people who never felt like they'd succeed. who never felt like they'd have a place. thank you for saving me time and time again. thank you for carrying me here. thank you for letting the ups and the downs help us grow. thank you for holding me accountable but cheering on my growth. thank you for growing with me and reminding me it's okay to be flawed.. here's to 2020 being for US," Tana concluded.
Congratulations Tana!
Read all that Tana had to say on her Instagram.
Like Just Jared Jr. on FB