Thu, 09 January 2020 at 1:51 am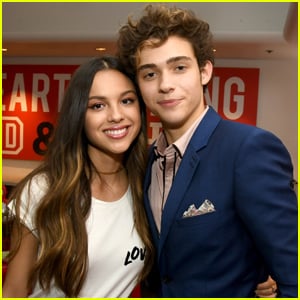 Joshua Bassett and Olivia Rodrigo are hinting at some big moments between Ricky and Nini in the final episodes of this season of High School Musical: The Musical: The Series!
The co-stars recently opened up about the duo's roller-coaster relationship in the series, with Joshua noting his favorite moment between the two "has not aired" yet.
"It perfectly mirrors real high school love lives. They can be pretty messy and the line is constantly blurred and literally every week, a new thing happens. I know at least when I was in high school, you're trying to keep up with what's going on and you're like, 'Wait, they're dating who now? This happened last night, what are you talking about?' Everything's kind of all over the place and it's cool to see the characters not only figure out their relationship with each other, but also grow into themselves as they are in their later years in high school and really starting to define who they are and what they stand for. I think it's cool to see the development of that throughout this season and seasons to come," Joshua told ET.
Olivia added, "Exactly that. I think it's so cool to be able to play this relationship. It mimics a lot of actual high school relationships, like Josh said. That it's just really fun and working with Josh and Matt [Cornett] has been amazing, and they're both lovely people. I think Rini stans are really going to want to watch episodes nine and 10, I think they're really going to love it."
READ MORE: Get a sneak peek at the cast of High School Musical: The Musical: The Series singing "We're All In This Together"
Like Just Jared Jr. on FB