Tue, 21 January 2020 at 9:19 am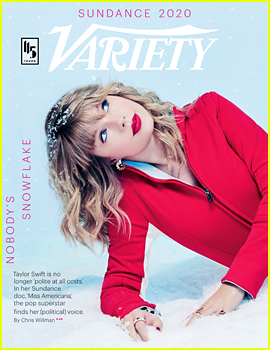 Taylor Swift is opening up in her Variety cover story.
The 30-year-old entertainer spoke about her mom Andrea's health, her Kanye West VMAs moment, and more. Here's what she shared…
On her mom's health after being diagnosed with cancer: "While she was going through treatment, they found a brain tumor. And the symptoms of what a person goes through when they have a brain tumor is nothing like what we've ever been through with her cancer before. So it's just been a really hard time for us as a family." Taylor confirmed to the magazine that her mom's health is the reason she won't be going on a full tour for Lover.
On the infamous Kanye VMAs moment: "As a teenager who had only been in country music, attending my very first pop awards show, somebody stood up and sent me the message: 'You are not respected here. You shouldn't be here on this stage.' That message was received, and it burrowed into my psyche more than anyone knew. … That can push you one of two ways: I could have just curled up and decided I'm never going to one of those events ever again, or it could make me work harder than anyone expects me to, and try things no one expected, and crave that respect — and hopefully one day get it."
On Scooter Braun and her blistering speech at the Billboard Women in Music Awards: "Well, I do sleep well at night knowing that I'm right and knowing that in 10 years it will have been a good thing that I spoke about artists' rights to their art, and that we bring up conversations like: Should record deals maybe be for a shorter term, or how are we really helping artists if we're not giving them the first right of refusal to purchase their work if they want to?"
For more from Taylor, visit Variety.com. We're wishing the Swift family the best.
Like Just Jared Jr. on FB