Fri, 21 February 2020 at 2:22 am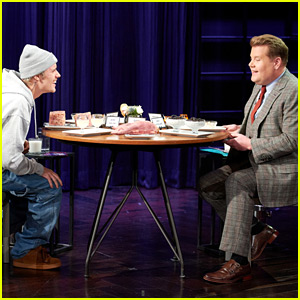 Justin Bieber is playing James Corden's "Spill Your Guts" game and he decided to answer a hard-hitting question instead of eating something gross!
The 25-year-old singer was asked to rank his wife Hailey's BFFs Kendall Jenner, Gigi Hadid, and Cara Delevingne from his favorite to least favorite… or he's have to eat a bit of a bull's private parts.
"Kendall, Gigi, Cara Delevingne," he responded pretty quickly. "Here's the thing. Let's go back to it though. I know Kendall the best. I've spent the most time with Kendall. She's a good friend of ours. I haven't spent a lot of time with Gigi and I haven't spent a lot of time with Cara. I have nothing against those people, it's just I have a better relationship [with Kendall]."
Justin got James to reveal how much he regrets doing the movie Cats!
READ MORE: James Corden Reacts to 'Cats' Bad Reviews
Like Just Jared Jr. on FB