Mon, 24 February 2020 at 8:31 pm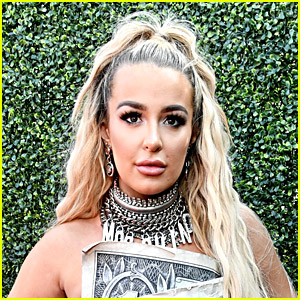 We were not expecting to hear a snippet of Tana Mongeau's new music!
The 21-year-old YouTuber met with her friends Mod Sun and Trevor Moran in the season two premiere of her reality show MTV No Filter: Tana Mongeau, and played part of a new song she recorded.
Tana has been working on new music with Mod, and since they met, Trevor has also been working on music with him.
When Tana played her new track for Trevor, he was left completely stunned!
"Showing Trevor this unfinished song right now, especially someone who eats, breathers, and sleeps music is (bleep) terrifying," Tana said before playing the chorus.
"What the (bleep)?! I did not, hold up," Trevor reacts. "I did not expect that from you!"
"She sounded incredible," he added. "That chorus hits. Screaming, angry, the b–ch had emotion. You can't beat that… This is definitely showing growth as an artist, and it's awesome."
Be sure to check out the season two premiere of MTV No Filter: Tana Mongeau, and if you want to hear the song snippet, you can skip ahead to the 9:30 min mark.
Like Just Jared Jr. on FB