Mon, 09 March 2020 at 4:45 pm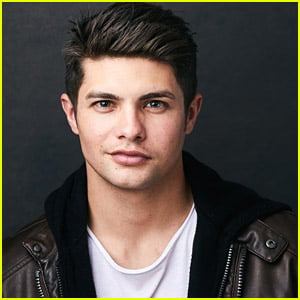 Get ready for more of hunky actor John Apolinar!
The actor plays popular kid Wayne in the upcoming movie Stargirl, which will be available to stream on Disney+ THIS Friday (March 13).
John hails from Phoenix, Ariz., where he put himself through college at Arizona State University. He then moved to San Francisco to study acting with Art Cohen and Michael Petted at the Beverly Hills Playhouse.
JJJ caught up with John to get to know him, as Stargirl is one of his first big projects he's worked on.
I love to cook and run beginning-to-end tutorial videos on my Instagram story from time to time. My favorite meal to cook is. a white wine braised chicken with a kale salad and homemade dressing 🔥. Check my skills out @justjohnapolinar!
I'm a huge old school Kung Fu movie fan. I grew up watching Bruce Lee, Jackie Chan and Jet Li films. Return of the Dragon and Enter the Dragon are my go to's.
The travel bug bit me a few years ago and now I take at least one trip to Europe every year. My favorite city so far has been Krakow, Poland! It was a beautiful city with a lot of fun things to do.
My family calls me Baby John since there's three Johns in the family, me, my dad and my grandpa. LOL!
Click inside for more of John's 10 Fun Facts plus stills of him in 'Stargirl'…
One of my hobbies includes fly fishing. I go with my cousin and a few buddies when I have free time. Cheeseman Canyon is an awesome spot and it's only about an hour outside of Denver.
My mom, two brothers, grandpa and a lot of cousins served in various branches of the military like the Marines, Army and Navy.
I nerd out on fantasy books. Harry Potter, Stormlight Archives, Eragon…I've read them all.
I'm half Mexican. Not a lot of people can tell but my dad is 100% Mexican and my mom is Caucasian.
I love to play chess. My dad taught me when I was pretty young and I still play to this day.
I started an eco-friendly men's clothing line called Upsaint. We're making rad shirts from recycled plastic water bottles to raise awareness for turtle conservation and ocean clean-up efforts. I lived in Hawaii for 4 months and fell in love with the turtles out there. When I'd go snorkeling I'd come across them and they were so majestic.
Like Just Jared Jr. on FB