Sat, 11 April 2020 at 8:29 pm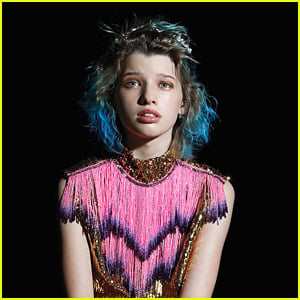 Ever Anderson shows off her blue hair in her cover feature for Flaunt magazine.
The 12-year-old up and coming actress, who will star in Disney's new Peter Pan live action film, opened up about why she decided to pursue a career in acting, like her mom Milla Jovovich.
"I like that feeling I get when I'm being someone else. From the first time I got to act in a film, I just loved it," she told the mag.
"It's like playing a game—a game that you get to play out with the other actors who are all sharing and pushing you to keep it all going. A lot of kids at my school don't like role playing anymore, so this is my way to keep playing with other people," Ever added.
Ever also shared the reason why she decided to dye her hair blue.
"It wasn't my choice to dye it blue. It was dyed this color for the film I shot last summer," she said. "I love my character in the film. She will forever have a place in my heart. I am her and she is me and that makes it so special because every time I think of blue I think of her."
For more from Ever Anderson, head over to Flaunt.com!
Like Just Jared Jr. on FB