Mon, 27 April 2020 at 5:00 pm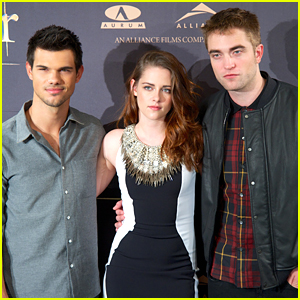 Twilight fans, get ready!!
The mega-hit movie franchise, starring Kristen Stewart, Robert Pattinson, Taylor Lautner and more, will be airing on Freeform all weekend long.
Starting Saturday morning (May 2) at 11:30 am ET/PT, you can watch a marathon of all five movies - Twilight, The Twilight Saga: New Moon, The Twilight Saga: Eclipse, The Twilight Saga: Breaking Dawn Part One and The Twilight Saga: Breaking Dawn Part Two. All five movies have a total time of 607 minutes, or 10 hours and 7 minutes.
On Sunday (May 3), the Twilight saga marathon will continue as they re-air all of the films throughout the day.
JJJ Fun Fact: May 2nd actually marks a significant day for the first film. That is the exact date, 12 years ago, that Twilight finished principal photography!
See the full schedule below…
Saturday, May 2
11:30 a.m. EDT/PDT – Twilight: Special Edition
2:30 p.m. EDT/PDT – The Twilight Saga: New Moon
5:40 p.m. EDT/PDT – The Twilight Saga: Eclipse
8:40 p.m. EDT/PDT – The Twilight Saga: Breaking Dawn – Part 1
11:20 p.m. EDT/PDT – The Twilight Saga: Breaking Dawn – Part 2
Sunday, May 3
9:00 a.m. EDT/PDT – Twilight: Special Edition
12:00 p.m. EDT/PDT – The Twilight Saga: New Moon
3:10 p.m. EDT/PDT – The Twilight Saga: Eclipse
6:10 p.m. EDT/PDT – The Twilight Saga: Breaking Dawn – Part 1
8:50 p.m. EDT/PDT – The Twilight Saga: Breaking Dawn – Part 2
Like Just Jared Jr. on FB