Thu, 07 May 2020 at 2:00 pm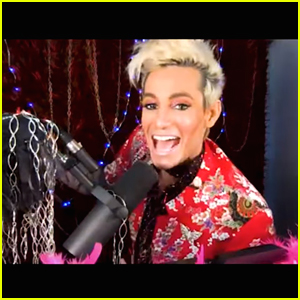 Frankini is back in a new virtual episode of Danger Force this weekend!
Frankie Grande returns as his villain character and joins the cast in singing a new original song, "This Gas Shall Pass", and we have an exclusive first look.
The new episode, titled "Quaran-kini" and directed by Mike Caron, shows the city of Swellview quarantined from a way-too-natural gas leak from the nearby Bhutt Factory.
It features Captain Man (Cooper Barnes), Schwoz (Michael D. Cohen) and the Danger Force kids (Havan Flores, Terrence Little Gardenhigh, Dana Heath and Luca Luhan) staying at home and setting a good example, but then Captain Man gets restless and becomes determined to find out who exactly is 'behind' the leak.
JJJ also spoke to Frankie about stepping back into the villainous role, what it was like getting to do a virtual episode, and more.
"ELATED!! I mean, Frankini is the greatest character on TV, ok maybe I'm biased!" Frankie shared about how excited he was to come back as Frankini. "It is always a delight when I get the call from the network to return on Danger Force!"
Tune in to Danger Force: Quaran-kini THIS Saturday (May 9) at 8pm ET/PT on Nickelodeon!

"This Gas Shall Pass" – 'Danger Force' Cast & Frankie Grande
Click inside for more from Frankie Grande…
JJJ: What's your favorite part of portraying Frankini?
FG: Frankini is as fabulous and as unapologetically himself as the man who plays him, and that is a true delight. His love of glitter, fashion, dancing, color, and singing takes center stage, which makes him not only a delight to play but a great example for kids around the world who love those things as much as Frankini/Frankie… giving them permission to live out loud and shine bright for the world to see!
JJJ: What was your favorite part about the virtual episode?
FG: I thought for sure we would not be able to film for a long with everything being shut down, but getting to be a part of the show I love from home was so cool and unexpected. It went so well that it gave me a breath of hope that I needed… and showed not only me but everyone watching that life will ABSOLUTELY go on… and in style!
JJJ: If you could play any other character or villain in Swellview, who would it be?
FG: I've already swapped bodies with Captain Man so one dream role has already been checked off… I think I'd love to play Schwoz next! I just know I would have a BLAST with the character and I would love to see what Michael Cohen, who plays Schwoz, would do with Frankini if there was another swap!
You can also catch Frankie starring as Joe Exotic in a new Tiger King musical parody. Check it out here!
Like Just Jared Jr. on FB