Thu, 14 May 2020 at 12:33 pm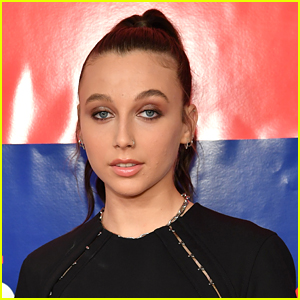 Emma Chamberlain is opening up about the different sides of herself.
In a new interview with Allure magazine, the 18-year-old YouTuber dished about quarantine, her coffee company, and more.
On calling the shots for the dedicated employees of her her coffee brand, Chamberlain Coffee: "It's kind of weird being like, 'Hi, 30-year-old grown adult. I want you to do this for me.'"
On being relieved to have a reason to press pause and how she's passing the time in light of the stay-at-home order: "I can't put in my two-week notice and then go and do a little vacation, because I'm my own boss. Weekends are not off for me. Nighttime, morning, early in the morning, there are no limits… I've been going for two years straight. So this is kind of a nice forced break…. It's given me a lot of time to think. I have a lot of [new] ideas, which is such a relief because, my God, being out of ideas as a YouTuber is so tough. You end up making content people hate and then you get roasted."
On what she'd like to be her legacy: "I hope I would be seen as somebody who, this is kind of a big thing to say, is an inspiration to other girls — to anybody — to be a little bit more honest on the internet…. Growing up on the internet, it was just a lot of fake stuff. Since I started on YouTube, many people are being so much more real, and I would like to think that I added to that, that I helped make people feel better in their own skin…. I would hope that people say, 'She lifted the curtain.'"
On the side of herself that you won't see online: "On the internet, I'm just kind of my goofy self. But I actually do have a side of me that's very business-minded, more analytical and thoughtful about things. I wish that would come to the front more."
For more from Emma, head to Allure.com!
Like Just Jared Jr. on FB