Thu, 14 May 2020 at 3:14 pm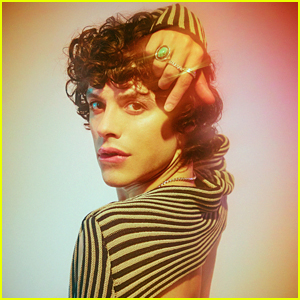 It's time to get to know Jonny Beauchamp, one of the stars of Katy Keene on The CW.
On the show, Jonny plays the roles of aspiring Broadway actor Jorge Lopez in addition to his drag persona, Ginger Lopez.
The season finale of Katy Keene airs tonight on The CW, and we're anxiously awaiting the conclusion of this season. Be sure to tune in!
We got the chance to catch up with Jonny and learn some info about him that you might not know yet! Here are some 10 Fun Facts about him:
1. My name is actually Jonny on my birth certificate.
2. When I was a teenager I used to harass Daphne Rubin-Vega and tell her she was gonna play my Mom one day.
3. I can't turn down fresh lemonade. Ever.
4. I nerd out pretty hard to classical and contemporary opera.
5. Silence Of The Lambs is my favorite movie. I watch it often.
Click inside to read the rest of the fun facts…
6. Going to concerts is probably my favorite pass time.
7. I nerd out pretty hard to Shakespeare too.
8. The first song I ever sang by myself on a stage for an audience was Hero by Mariah Carey. I was 11.
9. Seeing a matinee of Boy George's musical Taboo on Broadway inspired me to come out of the closet at 14.
10. I think empanadas might be the perfect food.
Like Just Jared Jr. on FB