Fri, 15 May 2020 at 5:54 pm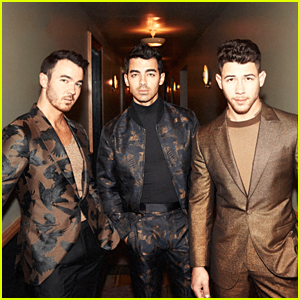 The Jonas Brothers are putting fan theories to rest on the meaning behind "XV"!
Nick, Joe and Kevin Jonas chatted with the Zach Sang Show about their new songs "X" and "5 More Minutes" and revealed what it all means.
"It's all been planned. We've thought through all of this for the last 20 years. We had it all mapped out," Kevin jokes.
"I really love what people come up with," Joe adds about all the fan theories. "For the last week when we have have shared this with fans and some friends, they come up with this elaborate family tree of what this means. They decode it themselves. I don't think it's that complicated, but we actually kind of like it even more. Just let people figure out their own versions of this."
"I think the simplest form is today is the 15th, and the song is 'X' and then '5 More Minutes', so… I think that kind of covers it," Kevin said.
"It's no more complicated than that. Although I'd like to kind of believe that we're thinking 15 years in the future when we're, you know, 16, 13 and 10," Nick added. "We're super excited. These songs are really important to us and '5 More Minutes' we performed on the Grammys, which was kind of a wild thing to play an unreleased song, and then not release it for a couple months. We've been wanting to do more of that, to kind of give these Easter eggs to music that we've recorded and finding the right moments to put it out and share it with the world."
They also just announced that the "X" music video will be released on Monday (May 18)!
Like Just Jared Jr. on FB