Fri, 29 May 2020 at 6:05 pm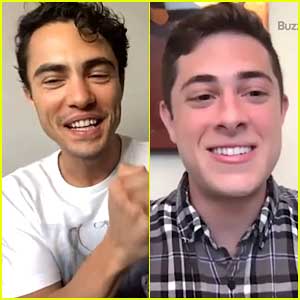 The guys of Never Have I Ever are finding out what fans think of them and their characters!
Darren Barnet and Jaren Lewison joined Buzzfeed for their "Celebs Read Thirst Tweets" series.
While reading the tweets, there was an overwhelming response of fans being more attracted to Jaren's Ben Gross than Darren's Paxton Hall-Yoshida.
"I'm going to be doing crazy crunches before season two to try and get my title back," Darren jokingly said.
They also dished about people binging the show in quarantine.
"I can't do anything without thinking about Paxton, he's changed my life. You know, it's crazy right now because I feel like the show would have obviously done well without the quarantine, but being in quarantine, people have watched it so much more attentively," Darren said.
"It's great, I think, being a source of joy during quarantine, and how many people [are] able to watch a show they can really relate to and put a smile on their face and watch it as many times as they want," Jaren added.
Check out the video now!
Like Just Jared Jr. on FB