Mon, 08 June 2020 at 1:14 pm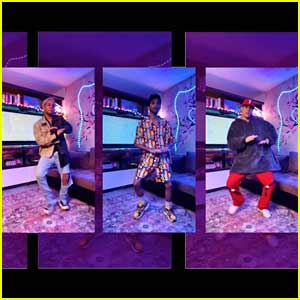 CNCO show off their dance moves to "Honey Boo" in this new video!
The guys performed the track for the YouTube Originals Dear Class of 2020 graduation special.
"Please note that this was filmed prior to our world's current events. We wanted to take a moment to say Felicidades a la clase de 2020 Graduation cap Join us and @YouTube to celebrate this year's graduates tomorrow June 7th @ 3PM ET Raising hands http://yt.be/dearclassof2020 #DearClassOf2020," the guys tweeted ahead of their performance.
The week before, the Latin American group took part in Black Out Tuesday, and shared their support for Black Lives Matter.
"We stand in solidarity with the Black community in the fight for racial justice and equality," they wrote in a note, which also announced they were cancelling an Instagram Live event. "We hope this allows for us, and you all, to reflect and have meaningful conversations surrounding the change that we must see in the world."
Like Just Jared Jr. on FB