Thu, 18 June 2020 at 4:37 pm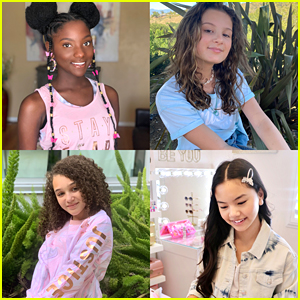 There's a brand new girl group in town – Run The World (RTW)!
The new music group consists of musical influencers Hayley LeBlanc, Jessalyn Grace, Kheris Rogers and Corinne Joy.
RTW was formed with Jam Jr and they are signed with Columbia Records, and a partnership with Justice.
The girls are dedicated to reimagining top pop songs for Gen Alpha (children of millennials) and are set to record an entire album of original music that emphasizes empowering other girls!
RTW's very first single "Rainbow" will be released in just ONE week on Friday (June 26), along with the accompanying music video.
"excited for everyone to see our first music video, 'Rainbow', out on 06.25! 🌈🎵 my friends and I in @officialruntheworld have been working hard on this, so we hope you enjoy it. thanks to our friends @justice and @jamjrofficial for making this happen! 💪," Hayley teased on Instagram.
Be sure to follow the group on Instagram @officialruntheworld to keep up with the latest!
Like Just Jared Jr. on FB