Wed, 01 July 2020 at 1:42 pm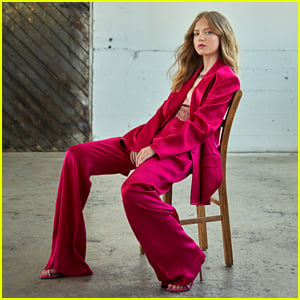 Get ready to see more of Shay Rudolph!
The young actress stars as Stacey McGill in the upcoming new Netflix series, The Baby-Sitters Club.
Stacey is best friends with Claudia (Momona Tamada) and soon becomes the treasurer of The Baby-Sitters Club. She is a recent transplant from New York City, that is fashionable, super-smart, organized, tech-savvy and has a secret.
The Baby-Sitters Club is based off the popular book series that follows the friendship and adventures of five middle-schoolers who start their babysitting business in the town of Stoneybrook, Connecticut. Ann M. Martin, the beloved series author and producer on the new series, was the first to conceive the idea of these inspiring young girls with different backgrounds, personalities and opinions that were brought together by a business venture they conceived and bonded through the friendships they forged.
Just Jared Jr got to know Shay with an exclusive 10 Fun Facts ahead of the series premiere THIS Friday (July 3) on Netflix!
1. I absolutely adore poetry! I love both reading it and writing some of my own. It's a really great emotional outlet that helps me put all my feelings into words. I fell in love with it in Canada when I was shooting the Baby Sitters Club. Some of my favorite poetry books at the moment are "Honeybee" by Trista Mateer and "The Sun and Her Flowers" by Rupi Kaur.
2. I really enjoy watching films and learning about acting and cinematography. I absolutely love Wes Anderson's style and how he portrays the stories and characters. My personal favorite film of his is The Grand Budapest Hotel. I love the story-telling, thrill, and comedy in that movie. I could watch it 1,000 times and never get sick of it!
3. I have been a vegetarian for three years and I don't think I'll ever go back to eating meat. I take pride in knowing I'm helping to reduce my carbon footprint and eliminate my contribution to animal suffering. Animal cruelty overall, is something that really upsets me and I try my best to use as many vegan and cruelty-free products that I can.
4. Music is something that is really important to me. I'm always either listening to or playing music. Not many of my family members are music-oriented, but I somehow found my way to it. After begging my parents for 3 years straight, I started playing the piano at 7 years old and I keep falling in love with new styles of music. I recently started playing the guitar too! Music can be anything you want it to be and there are so many stories that can be told through it.
5. I've had crystals for as long as I can remember. My mom always carries them with her and over the past few years I've started collecting some of my own. Not everybody has a love for certain crystals or even crystals at all, but I think that's what makes it so special to me. Whenever I'm in a crystal store, I trust my intuition and go with whichever crystal speaks to me first. Some of my favorites are honey calcite and apatite.
Click inside to see more fun facts with Shay Rudolph…
6. Vintage stores, flea markets, and thrift shops are some of the best places to find funky clothes. Not only is it better for the environment and more sustainable than fast fashion, but it's also a really fun way to discover your own fashion style! Don't ever give up on a store after looking through one rack of clothes. Sometimes all it takes is circling back through sections you've already looked through to find the perfect piece of clothing! This is how I found my favorite hand-painted jean jacket.
7. Picnics are one of my favorite things to do in my free time. I love having them alone in my backyard or at a park with a bunch of my friends. I've been searching everywhere for the perfect vintage picnic basket to hold all my picnic snacks.
8. I love snacks!! I've started to hide snacks like Cheez-Its and Reese's Pieces around my room in secret spots so whenever I get hungry, I don't have to go out to the kitchen for food. I like to eat my secret snacks while watching Netflix in my room so nobody bugs me about getting some ;) PRO TIP: buy a hollowed out book to discreetly hide candy in or hide it inside boxes and drawers that people never look in.
9. My favorite season is spring! It's the perfect weather, not too hot, not too cold. Everything is coming back to life after winter and all the flowers are starting to bloom. If I could, I would have picnics every day during spring and just stare at the clouds, smell the flowers, and eat strawberries. Spring also has the prettiest natural colors like lavender and sage green (my absolute favorites).
10. When I was 11, I had a horror movie marathon and watched these films all day long only taking breaks to get more popcorn: The Exorcist (Uncut Version), Poltergeist, The Blair Witch Project, Halloween, Nightmare on Elm Street, Friday the 13th, The Shining, Alien, and Split. This was the beginning of my love for scary things.
Like Just Jared Jr. on FB