Fri, 03 July 2020 at 4:18 pm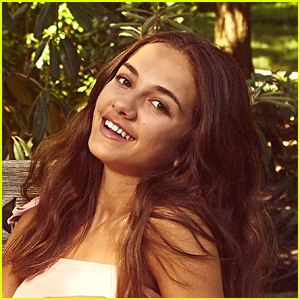 Mattea Conforti is definitely one to watch!
The 14-year-old actress already has quite the resume at her age, with multiple Broadway shows, box office smash movie, and a list of TV series.
Mattea currently stars alongside Zachary Quinto and Ashleigh Cummings in the AMC series NOS4A2, where she plays Millie Manx, the daughter of Zachary's Charlie Manx. She's previously been seen in other TV shows such as Power, The Good Cop, and Gotham.
She has also already been quite the Broadway veteran – Mattea starred as one of the original Young Annas in the Broadway production of Frozen: The Broadway Musical, and she played the title role in Matilda the Musical when she was just nine years old!
Mattea's role in Frozen on Broadway wasn't her only brush with the hit musical franchise. She is the voice of Young Elsa in the record breaking sequel, Frozen 2.
You can catch Mattea on NOS4A2 Sunday nights at 10/9c on AMC.
We got to know the teen actress with 10 Fun Facts – Check them out below!
1. I have two dogs, a 3-year-old Maltipoo named Rosie, and a 12-week-old Cavapoo named Rocky. Rocky is our quarantine puppy.
2. I love to cook and I make homemade pasta from scratch any chance I can.
3. I am 100% Italian-American.
4. My first acting gig was a Charmin toilet paper internet commercial where I had to scream all day long. It was a Halloween-themed spot, and the tag line was, "Nothing is scarier than running out of toilet paper!"
5. The first movie I filmed was when I was seven and I played Elle Fanning's half-sister. The movie is called Three Generations, and it also included Naomi Watts and Susan Sarandon. I was lucky enough to work with Susan Sarandon again in another movie about two years later called The Viper Club.
Click inside to see more fun facts with Mattea Conforti…
6. I booked the role of Matilda on Broadway from going to an open call in New York. I had absolutely no formal acting or vocal training at the time. I made my Broadway debut at the age of nine on the Fourth of July!
7. When I was working on Power, 50 Cent would call me "Been Here a Long Time," because when we first met, I had already been on the show for 2 seasons, but I had yet to meet him. He was directing one of the episodes of the final season, and he asked me if it was my first time on the show. I told him, "No, I've been here a long time!" He got a kick out of that and that's what he called me the rest of our shoot together.
8. I love to snowboard in the winter and paddle board in the summer. I'm lucky to live in place that I have the opportunity to do both!
9. I'm pretty athletic. I love to dance and tumble. I taught myself how to do a back tuck during quarantine. I play lacrosse, and I just tried out for my high school cheerleading team. I'm going to be a freshman in September.
10. Besides acting and directing, I also aspire to be a doctor. I love science, especially biology, and I've watched the entire Grey's Anatomy series multiple times.
Like Just Jared Jr. on FB