Wed, 15 July 2020 at 12:47 pm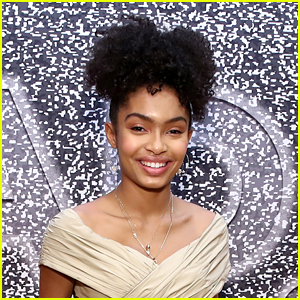 Yara Shahidi is speaking out about the Black Lives Matter movement and moving forward from this moment in time.
The 20-year-old grown-ish star and activist opened up in a new interview for the August digital issue of Elle. See what she said:
On reclaiming Black joy and what that means to her: "Mentorship. When I think of fashion, for example, I'm grateful to be in a community. My stylist, Jason Bolden, has always prioritized what it means to support Black people in the fashion industry. We've consistently been in conversations about how to use this space for something that's powerful. Who are we bringing into these moments? Who can we open doors for? Who can we be in community with? Joy comes from being able to consistently embrace our sense of community and revel in our culture year-round. We must believe that there is something that we're fighting for in order to keep fighting."
On continuing to do the work after a monumental moment like this: "I think about my Black and brown communities. I think about my figurative aunties and uncles in this, who supported more nuanced narratives with people and used their platform for good. I think the difference [in the past] was a lot of work was pretty quiet and there wasn't as much of a public narrative around it, but the work was still being done. And so I think when I stepped into the space of being a series regular on a show, I was already involved in a cast, but also in a larger Black entertainment community that was consistently reckoning with questions like, 'What is our role on television? What are the obligations we need our networks to make? And what are the environments that we need to live in to consistently make sure that we are responsible with our media?' I think about so many people that I'm grateful to be in a community with; we may not know at first glance, but I can attest to the fact that they're doing the work 24/7, 100 percent of the time, with whatever their platform is."
On reconstructing what the future looks like: "Society tries to take away our ability to imagine, it takes away our ability to participate in a larger collective and nuanced Black imaginary world, because we are consistently burdened with the task of dealing with our reality. There's very little space to participate in something that is unknown, because there's so much to handle in our present. We need this imagination and creative force to completely reconstruct our reality. To not only destroy, but to completely reconstruct what the future looks like."
For more from Yara's interview, head over to Elle.com!
In case you missed it, see what Yara said about the important life lesson her parents taught her at a young age.
Like Just Jared Jr. on FB