Fri, 17 July 2020 at 12:54 pm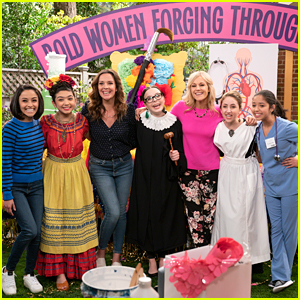 Sydney To The Max is honoring great women in history in tonight's all new episode!
In "Rock The Float," Sydney, Olive and Sophia and Emmy are excited their design for the float honoring brave women was chosen for the annual Portland parade. The girls rocked the float dressed as their favorite female role models.
Inspired by her friends who were able to work on the project with their moms, Sydney paid tribute to her mother, who was a dedicated doctor before she passed away. Olive, Emmy and Sophia chose to honor acclaimed physicist and chemist Marie Curie, Mexican artist and feminist icon Frida Kahlo and Supreme Court justice Ruth Bader Ginsburg, respectively.
JJJ spoke to stars Ruth Righi and Ava Kolker, and got the scoop about their personal favorite female role models, and why they're excited for fans to see this episode.
"I believe this episode holds very valuable themes and ideas," Ruth told us. "One thing I love about it, is it's message and emphasis on women empowerment. Not only do we pay tribute to a few of history's influential and powerful women, but we also reflect on the importance of respect for family."
"I am always inspired by strong women who lead their own path and break all boundaries of what's possible at a particular time in society," Ava added. "I love this episode because it encourages young women to be fearless about their opinions, and to find out what they're passionate about and use their voice to fight for it."
As for their own female role models, Ruth shared, "I have many female inspirations that I look up to for different reasons, but one in particular is my grandma. She is constantly positive and determined no matter the circumstances and never fails to put a smile on people's faces with anything she does."
Ava mentioned that her mom is her fave. "I have to say my mom because she's strong and has taught me to not see boundaries in what's possible in my life and to be hard working and that there are no limits to what can be achieved when you go after it with all your heart and passion."
Tune in to Sydney to the Max TONIGHT (July 17) at 8pm ET on Disney Channel!
Like Just Jared Jr. on FB