Mon, 17 August 2020 at 2:12 pm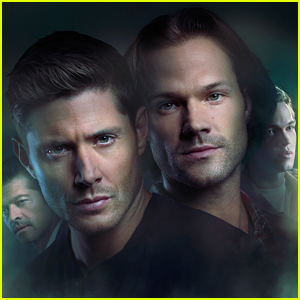 Supernatural's final episodes have a premiere date!
The CW has revealed that the long-running fan favorite series will return on Thursday, October 8th, for it's final seven episodes.
Along with Supernatural's return, the network has also revealed all of the fall premiere dates that are coming up in the next couple of months.
New series World's Funniest Animals will premiere on September 18th, with the 2020 iHeartRadio Music Festival airing on September 27th and 28th.
Pandora's second season will premiere on Sunday, October 4th, with Swamp Thing making it's broadcast premiere on Tuesday, October 6th.
Another new show, Devils will make it's debut on Wednesday, October 7th, followed by the season two premiere of Coroner. The next night will be Supernatural's return, followed by The Outpost's third season premiere.
Check out the 2021 airing schedule, when the Arrowverse shows and more will return. Stay tuned for exact dates!
Click inside to see the full fall premiere schedule…
FRIDAY, SEPTEMBER 18
8-8:30pm MASTERS OF ILLUSION (Original Episode)
8:30-9pm MASTERS OF ILLUSION (Encore Episode)
9-9:30pm WORLD'S FUNNIEST ANIMALS (Series Premiere)
9:30-10pm WORLD'S FUNNIEST ANIMALS (Original Episode)
SUNDAY, SEPTEMBER 27
8-10pm IHEARTRADIO MUSIC FESTIVAL (Night One)
MONDAY, SEPTEMBER 28
8-10pm IHEARTRADIO MUSIC FESTIVAL (Night Two)
SUNDAY, OCTOBER 4
8-9pm PANDORA (Season Two Premiere)
TUESDAY, OCTOBER 6
8-9:30pm SWAMP THING (Broadcast Premiere)
WEDNESDAY, OCTOBER 7
8-9pm DEVILS (Series Premiere)
9-10pm CORONER (Season Two Premiere)
THURSDAY, OCTOBER 8
8-9pm SUPERNATURAL (Season Return)
9-10pm THE OUTPOST (Season Three Premiere)
TUESDAY, OCTOBER 13
8-9pm SWAMP THING (Original Episode)
9-10pm TELL ME A STORY (Season Two Broadcast Premiere)
THURSDAY, NOVEMBER 19
8-9pm SUPERNATURAL: THE LONG ROAD HOME (Finale Special)
9-10pm SUPERNATURAL (Series Finale)
Like Just Jared Jr. on FB