Tue, 18 August 2020 at 10:24 am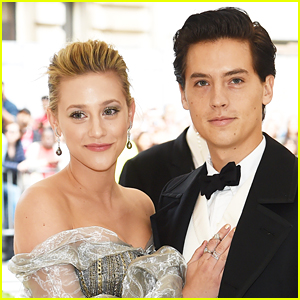 Lili Reinhart just gave an extremely vulnerable interview where she seemed to discuss the aftermath of her split from Cole Sprouse.
"The last couple of months have probably [been] the most emotional few months of my entire life and my therapist [told] me, 'Your body's going through withdrawal from love/ 'You're used to having this exchange of happy chemicals between you and the person that you're with.' In moments of my life, I have dropped every ounce of pride that I had just to be like, Love me. Please take the pain away for a day, a second, an hour, just so I can feel that fix again," Lili shared in her interview with Refinery29.
"This has been the first time in four years where I've been able to like stop and process the immense life changes that I've gone through…[I felt like a] black tunnel [that] was never going to end…I couldn't see the light. I was like, I feel like I'm dying. It was f*cking rough, and there's no other way through it than just through it. I've seen a lot of people when it comes to heartache and grief and breakups, and they try to get that void filled with sex, with coke, with food, with drinking, [but] the void is still there. I took the road less traveled and just dealt with my sh*t. I had to face my own pain head-on."
Lili also spoke about her new collection of poems, "Swimming Lessons," being released next month. "I felt the need to write that because I was scared — and I am scared — that people are going to try and create their own idea of what my love life looked or looks like. I'm not saying, My boyfriend f*cked another woman. I'm saying, I felt betrayed."
Watch the trailer for Lili's newest film Chemical Hearts right here if you missed it.
Like Just Jared Jr. on FB