Wed, 19 August 2020 at 4:25 pm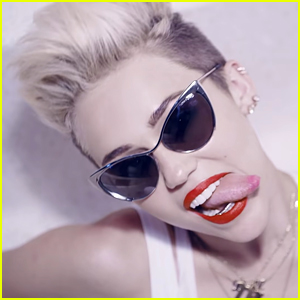 Miley Cyrus is opening up about making her track "We Can't Stop"!
The 27-year-old dished to Zane Lowe on Apple Music about what seeing the music video reminds her of.
"I'll tell you a funny story about 'We Can't Stop' that I always like to think about. Every time I hear the song or see the video, I think about this," Miley said. "I started working on that record when I was at a house party in LA and I was like sitting up on the rooftop and every night we were watching the sun come up, which I do that in the music video. And I went and told Mike WiLL, this is what I really want to write about. What I'm living right now, and what I'm experiencing. And I was coming off of the Hannah and all the different things."
"But one night I was partying with all my friends and we all got kind of messed up and went and laid by the fire," she continued. "And I fell asleep and I had on Doc Martens, these big stacked rubber Doc Martens, and I had passed out and when I woke up, my shoes had melted because they had been by the fire for so long and my feet looked like big monster blobs. And I was like going to leave and I'm like, holy.. My shoes melted."
"I actually looked like I had blobbed cartoon feet and I didn't put that in the video, but every time I listen to this song, I see my Doc Marten blob feet because it just makes me where I am now and where I was then it's just in total I was on such a different path," Miley shared. "When I listen to that song, I think of that memory and it makes me really happy because it like I think music can teleport you. My mom has her song that she listened to in her Trans-Am and had her first kiss or whatever. And it kind of takes you there so I love that about 'We Can't Stop.' And so each song in my life has an element of that. Has an element of it takes me back to a time."
In case you missed it, Miley was recently announced to join an all star lineup of performers for the 2020 MTV VMAs!

Miley Cyrus – 'We Can't Stop'
Like Just Jared Jr. on FB