Thu, 15 October 2020 at 8:41 pm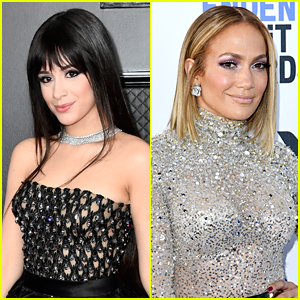 Camila Cabello joined Jennifer Lopez for a new episode SOMOS Radio hosted by Christian Acosta on Apple Music!
During the podcast, the 23-year-old singer gave credit to the 51-year-old entertainer for paving the way for girls like her.
"I feel like there's stuff that I don't want to say, because I don't want people to know yet. But in the interview when I wrapped Cinderella, they were talking about what does it mean for you to be a Latin Cinderella? And I said your name in that interview, Jen," Camila said. "I was like, 'If it weren't for people like you, I wouldn't be able to do that.' You trailblazing in movies and being a musician that did both and did all of it, that's what made that possible for me."
Camila also teased that they'll be singing a JLo song in Cinderella!
"And it was one of the best experiences of my life. And actually, we sing one of your songs in the movie," she dished. "To be honest, I shouldn't have said that, but whatever. I'm here, I got excited, and I did. I'm not saying which one. I'll tell you after."
"Don't tell me after. I want to see it. I want to see it for the first time and be blown away. I can't wait," Jennifer replied.
JJJ Fun Fact: Camila and Jennifer actually share the same stylists!
Like Just Jared Jr. on FB