Wed, 04 November 2020 at 5:47 pm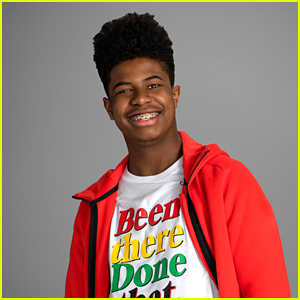 Isaiah Crews is making his acting debut in the new Nickelodeon series Side Hustle!
The 15-year-old actor plays Munchy, Lex and Presley's best friend and neighbor. He's a charming, offbeat and impulsive lover of life who lives in the moment.
Side Hustle follows best friends, smart and sarcastic Lex (Jules LeBlanc) and confident and tough Presley (Jayden Bartels), as they devise a plan to make money when fireworks accidentally destroy a boat belonging to the dad of their quirky friend and neighbor, Munchy (Crews).
Forced to come up with creative ways to earn money to pay for the damages, Lex, Presley and Munchy enlist the help of Presley's tech-savvy younger brother, Fisher (Mitchell Berg), who creates an app to connect with people looking for help with small jobs, and Munchy's bossy older brother Jaget (Jacques Chevelle), who makes sure they keep up with the payments.
If you didn't know, Isaiah's dad is also a pretty famous actor who you may know – Terry Crews! Terry of course stars on Brooklyn Nine-Nine and is the current host of America's Got Talent.
JJJ got to know Isaiah ahead of the series premiere of Side Hustle, which is THIS Saturday (November 7) at 8:30p/7:30c on Nickelodeon. Check out 10 Fun Facts about him below:
1. I love romance books and movies. I may not look it but I'm kind of a softie.
2. Big fan of anime. BIG, big, fan.
3. I love video games. Beat Saber is one of my favorites at the moment.
4. I'm a collector. I collect figurines and toys. I have a 1/12 scale replica of the DeLorean time machine.
5. My dream is to work with Edgar Wright.
Click inside for more fun facts from Isaiah Crews…
6. I'm a musician. I play bass, drums, and I DJ. I also produce beats.
7. I absolutely despise celery.
8. I want to make a dark comedy movie.
9. I love Lizzo's music so much.
10. Some of my all-time favorite albums are The Incredible True Story by Logic, The 20/20 Experience by Justin Timberlake, To Pimp a Butterfly by Kendrick Lamar, and Ginger by Brockhampton.
Like Just Jared Jr. on FB